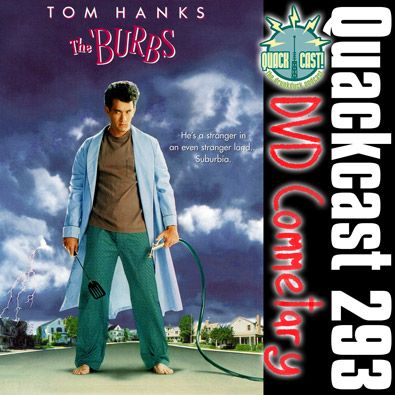 LISTEN!
The Burbs video cover
In this happy season of October we come to that time of year again when Banes starts to get excited by Halloween! This year his idea was for us all to do a real time DVD commentary for The Burbs, that great comedy horror film staring the famous Tom Hanks, from back in 1989 when he was still a hilarious leading man and not a super serious drama guy. We all LOVE this movie, it's very funny, with a lot of cool twists and great scenes. Along with Tom Hanks it stars Princess Leia AKA Carrie Fischer, dudeman Corey Feldman, and Bruce Dern being Dale Gribble before Dale Gribble was even a thing! Pitface, Tantz, Banes and I all talk along to and over the movie as it's playing. To enjoy the FULL effect I strongly suggest you find a copy of The Burbs on a legal streaming site, or less than legal one depending on your ethics, or maybe even a DVD or old video! Pop it on and spoil the movie by listening to us all blather away together, it'll be just like watching the movie WITH us! And wouldn't you like that? I'm sure you would, we're all very friendly people. ;)
Our feature AND the music by Gunwallace this week is for the same comic, "Useless". The theme is atmospheric and haunting, lightened with the strains of a singing, melodic electric guitar.
Topics and shownotesFeatured comic:
Useless -
http://www.theduckwebcomics.com/Useless/
Links:
The Burbs IMDB page -
http://www.imdb.com/title/tt0096734/
The Burbs Wiki -
https://en.wikipedia.org/wiki/The_'Burbs
The Burbs trailer -
https://www.youtube.com/watch?v=qg7RpL3kTBk
Special thanks to:
Gunwallace -
http://www.virtuallycomics.com
Banes -
http://www.theduckwebcomics.com/user/Banes/
Tantz Aerine -
http://www.theduckwebcomics.com/user/Tantz%20Aerine
Pitface -
http://www.theduckwebcomics.com/user/PIT_FACE/
Featured music:
Useless -
http://www.theduckwebcomics.com/Useless/
by uselessvigilantes, rated E