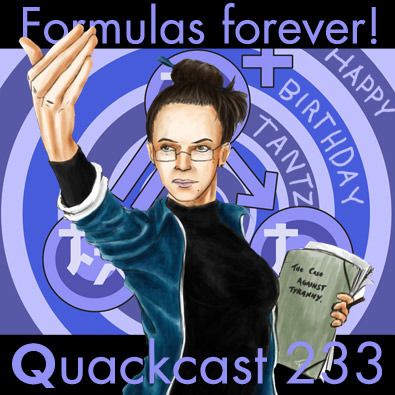 LISTEN!
Here we go again, back to formulas! This time we got some external input. Fellow DDers had a say about their idea about the utility of formulas and how they use them in their writing and comics. It's important to understand formulas in writing so you know what works and why it works, it can help you in your own work. And when you need to and you've got the ability you can create your OWN writing formula. But remember: the formula is just the bare skeleton, you have to add all the meat and flesh to it with the rest of your writing, don't let the bones show through!
Listen to Gunwallace's beautiful theme for Brave New World!
Oh, and one last thing… HAPPY BIRTHDAY TANTZ AERINE!!!!
Topics and shownotesFeatured comic:
Cogs and Claws -
http://www.theduckwebcomics.com/Cogs_and_Claws/
Contributors forum thread:
Getting the formulas RIGHT -
http://www.theduckwebcomics.com/news/2015/jul/16/exploring-new-comic-book-stores/
Contributors:
Genejoke -
http://www.theduckwebcomics.com/user/Genejoke/
KimLuster -
http://www.theduckwebcomics.com/user/KimLuster/
Ozoneocean -
http://www.theduckwebcomics.com/user/ozoneocean/
Bravo1102 -
http://www.theduckwebcomics.com/user/bravo1102/
Usedbooks -
http://www.theduckwebcomics.com/user/usedbooks/
Previous formulas Quackcast:
Quackcast 230 getting the formula right -
http://www.theduckwebcomics.com/quackcast/episode-230-getting-the-formula-right/
Special thanks to:
Germanium Gunwallace, elemental music -
http://www.virtuallycomics.com
Beryllium Banes, Covalent-co-host -
http://www.theduckwebcomics.com/user/Banes/
Krypton Kawaiidaigakusei, formula featurer -
http://www.theduckwebcomics.com/user/kawaiidaigakusei/
The theme song by Gunwallace this week was for:
Brave New World
-
http://www.theduckwebcomics.com/Brave_New_World/
by BraveNewWorld rated E. - See more at:
http://www.theduckwebcomics.com/news/2015/aug/24/quackcast-233-formulas-forever/